Single Line Women's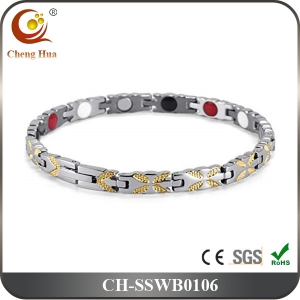 Name:Magnetic Therapy Bracelet SSWB0106
Model:CH-SSWB0106
Product Features:
Material: 304 or 316L stainless steel, or pure titanium;
Dimension: 7.0x210x3.5mm, width: 7.0mm, thickness: 3.5mm, length: 210mm or 8.25";
Polishing: Top polish with shiny and brushed results;
Color plating: Two tone IP gold plating;
Energy elements: Neodymium strong magnets 3000 gauss, germaniums, far infrared and negative ions as 4 in 1;
Decoration: None.
Benefits: 1. Magnetic therapy and pain relief functions, like rheumatism, arthritis and cervical spondylopathy;
2. Adjusting blood pressure and promote blood circulation, such as high blood pressure or low blood pressure;
3. Balancing human body's energy, anti- fatigue and help for sports;
4. Preventing radiation from TV, computers and cell phone;
5. Improving metabolism and strengthen human body's activities.

Packing: Common packaging: Individual OPP polybag or film wrap individual packaging;
Special packaging: Individual gift box, such as Paper box or velvet box;
MOQ (Minimum order quantity): 200pcs each design;
Delivery time: 30 workdays;
Quality standard: High quality standard, Non-toxic and environmental friendly;
Warranty: 12 months.
Copyright @ 2015-2023 Shenzhen Chenghua Jewelry Corporation Limited